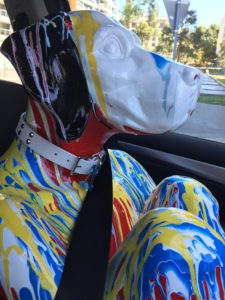 Sunday was a fabulous day at Gillie and Marc's art auction. Gillie and Marc are a husband and wife team who collaborate to create art. They also had a chance meeting which started their relationship which resonates with me as I met my husband at a rubbish bin. There were so many lost dogs and lost rabbits all looking for a new home. My girls love animals so they had lots of fun connecting to all the different animal personalities that came across the block. They spent most of their time at the sausage sizzle eating copious amounts of sausages and sauce. So we decided it must be time to get the girls a dog.
Obviously this was going to be an inanimate dog; one I didn't need to feed, walk, or take to the vet. I saw this as an all round great investment. The dog you only pay for once. So we bid, got lucky and we won 'Calvin'. Calvin is a dogman who has a gorgeous face, floppy ears and topped off with colour, passion and excitement dribbled all over him. Jackson Pollock would have been impressed. Today I went to the studio to collect 'Calvin'; expecting to see him puffing and panting in expectation of being taken home. I nestled him happily in the front passengers' seat and firmly fastened his seatbelt across his folded arms and colourful chest, all the while hoping that is wasn't too tight. I was truly starting to connect to this lovable dog. As I was heading home, I was stopped in the traffic.
I turned to the left to see the woman in the car next to me pointing at the dog in the front seat of my car and turning ar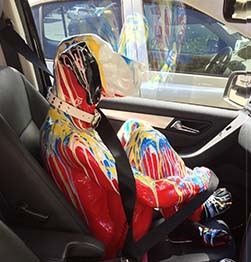 ound telling her little daughter to look out the window. The mother puts down the windows for a better view of 'Calvin'. I duly followed window etiquette and put down my window. The mother then turns to me and says, 'He's amazing', to which I said whilst caressing his head, 'Thank you, this is Calvin', to which the mother replied 'Oh, he's better than a husband', to which I said, 'Yes, I don't even have to feed this one'.
You never know where art will take you.